Who would have thought that those common golden star flowers that grow rampantly and freely in everyone's yards—that some even call 'weeds'—could be highly nutritious and healing super food?
Dandelion greens seem to be the new kale. The entire dandelion plant is completely edible, from root to stem to blossom.
Dandelion greens are high in iron, calcium, vitamin C, A, K and many other vitamins and minerals. In fact, dandelions have been a part of traditional medicine for quite some time because of their reputation for helping to heal cancer, inflammation and many common health issues.
They even have more protein and iron than spinach!
Dandelion greens are also diuretic, meaning they will help clear all the toxins that come out through urination. That's exactly why in French it is called 'pissenlit', meaning to wet the bed. 💦
Yep, dandelion greens are super medicinal and absolutely delicious when cooked and we have some incredible five star recipes to share with you.
recipe: dandelion greens with a kick
For this delightful slightly asiatic and peppery recipe, you will need:
chopped dandelion greens 
red pepper flakes, to your taste
salt to soak the greens 
olive oil
butter (optional)
onion, chopped 
garlic cloves, chopped 
lemon juice from half a lemon
salt and ground black pepper to taste 
Step 1: Soak your dandelion greens
Soak your dandelion greens in a bowl of cold water with 1 teaspoon of salt for about 10 minutes and then drain.
Step 2: Boil a large pot of water
Boil a large pot of water with 1 teaspoon of salt. Add dandelion greens and cook until they are soft and tender. Drain and rinse with cold water until the temperature has cooled down.
Step 3: Gently sauté
Heat olive oil and butter in a large skillet on medium heat. Add some onions, salt and pepper. You can add the amount of red pepper flakes you would like depending on your taste. Increase heat and stir in the dandelion greens until they are wilted. Add parmesan cheese and lemon juice for a more zesty flavor.
Each serving is about 150 calories and the prep time is about 10 minutes. In total with cooking time, this healthy recipe will take you about 25 minutes.
7 ways to eat dandelion greens
Looking for a bit more than some deliciously and simply sauteed dandelion greens? Fear not, there are so many ways to enjoy these health-supporting and spicy weeds.
1. raw dandelion greens salad with citrus vinaigrette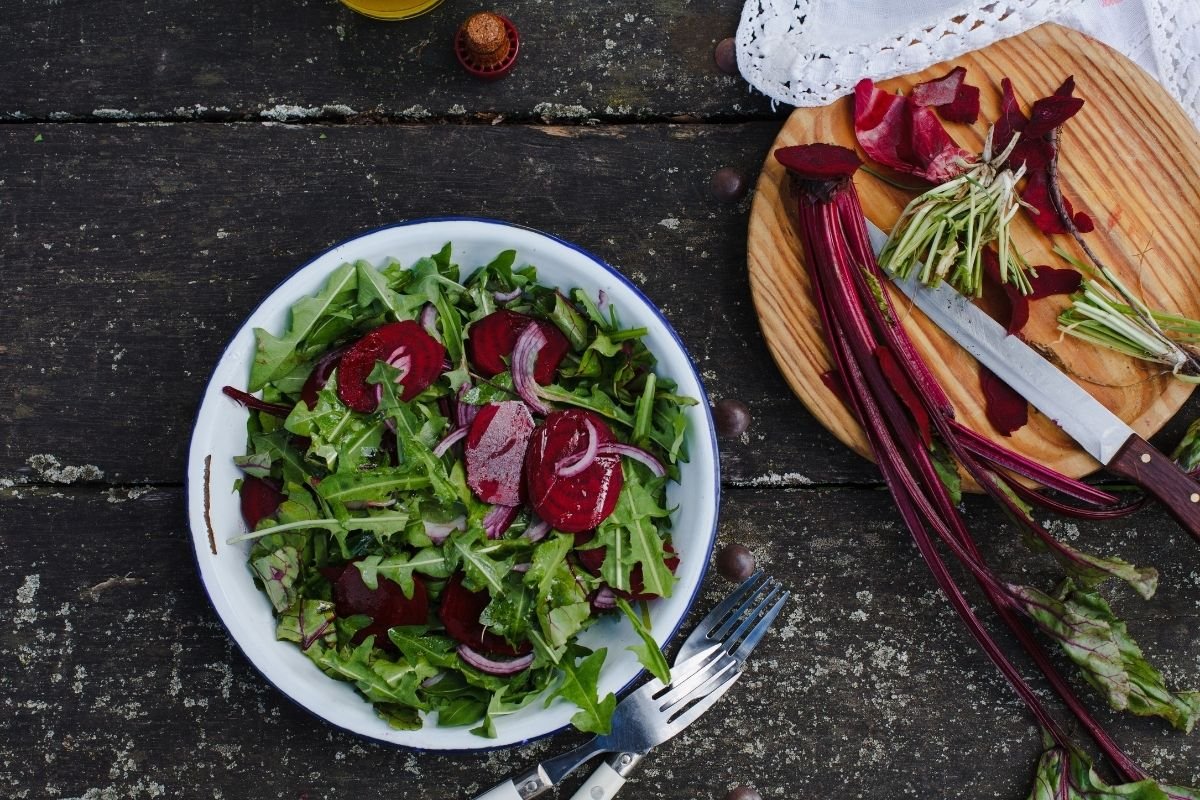 Of course, this is a non-cooked option but to keep things simple we had to include the easiest way to prepare a meal with dandelion greens. Just pick the youngest dandelion leaves, add organic olive oil and season with salt. You can eat them alone on their own (if you like bitter taste) or add greens like organic lettuce leaves, arugula or spinach. You can add blue cheese or a generous splash of citrus vinaigrette to combat the bitter flavor of the leaves.
2. sautéed greens with garlic
You will need a sauté pan and wooden spoon. First, boil the greens for about 5 minutes then on medium high heat sauté your greens in the pan with garlic + sea salt.
3. chopped dandelion greens wilted with brown rice or quinoa
Cook your quinoa or brown rice. Heat up some olive oil and sauté your garlic, mushrooms and pine nuts, mixing with a wooden spoon. Add the greens until they are slightly wilted. Toss everything together and serve with parmesan, salt, pepper and sliced avocado as desired.
4. foraged dandelion green pesto
This foraged recipe is super exciting for all those new to making pesto with different types of greens replacing the classic basil. It is super tasty and delicious. If you don't have enough dandelion greens growing in your garden, you can buy fresh greens from a local market or food co-op nearby. The lemon zest and juice help with the bitterness. Blend your leaves, garlic clove, black pepper, extra virgin olive oil, lemon juice, salt, and pine nuts together. Process until the mixture is completely smooth and then add your parmesan cheese. This pesto is delicious in a dish with pasta, boiled potatoes, or even in a salad.
5. vegetable or chicken broth soup
When your broth is ready and prepared, simmer with dandelion greens and mushrooms (or other vegetables). If using a vegetable broth, you can add white miso which is highly nutritional and will add a more salty flavor.
6. oven-baked greens with potatoes and scallions
You will need a large gratin dish to cook in. Heat your oven to 375 degrees, and add butter or olive oil in the dish. Slice the potatoes into one fourth inch pieces. Overlap the potatoes on the bottom of the dish and then add your already wilted dandelion greens. Continue creating layer upon layer with your potatoes, scallions and dandelion greens. Season with salt + pepper. Whisk fresh cream with milk (or soya cream for a vegan option) and pour over evenly. Add parmesan cheese or vegan cheese. Bake for 45 minutes until the potatoes are soft and the cheese is browned.
7. dandelion greens pasta italian style
Bring a pot of salted water to a boil, add your fettuccine or penne pasta when ready. In a skillet on medium heat, add pine nuts, garlic and olive oil. Cook for about 1 to 2 minutes then add your greens. Combine with your pasta and freshly grated parmesan cheese! If you're more into red sauces, then add them to this spicy tomato and herb sauce for a warming pasta dish.
8. dandelion greens greek style
Greeks have been eating dandelions for centuries, way before it became trendy. This is a traditional Greek dish called Horta, which uses a bunch of dandelion greens. Wash your greens thoroughly and boil in a slightly salted pot of water. Drain and drizzle with olive oil. Just add some lemon juice, salt, and sea salt to get a highly packed nutritional dish full of iron, vitamin C, K, A and antioxidants. No wonder the Greeks live so long and well!
If you use any of these recipes, be sure to leave a recipe review in the comments of what you loved the most! We would love to hear your tips & suggestions.
FAQs
final words
There really are endless recipes that you can make with dandelion leaves! We hope you feel inspired after reading this article, and will honor dandelions as the magic and medicinal plants they are instead of seeing them as weeds. It's all about perspective, and how amazing that this is an edible you can find easily in your own garden, or in your neighbors! 😉